Unanet Uncorked Happy Hour


Wednesday, July 17
4:00 - 6:00 PM
Unanet is excited to host Unanet Uncorked, an opportunity to network and learn more about Unanet with customers, partners, and friends at our Headquarters in Dulles, VA! In addition to networking and meeting with Unanet consultants, we will also be providing a sneak peek into the results of our 2019 GAUGE Report: An Industry Roadmap of Benchmarks and Trends for Government Contractors!
We look forward to learning more about how you are utilizing Unanet and discuss how we can collaborate to further achieve your desired outcomes! During the event, we will have experts on hand to answer any questions you may have about how to best use the Unanet system to transform and grow your organization!
We'd love for you to join us to relax, chat about your business, discuss how Unanet will deliver on your desired outcomes, and network with your peers! If you are interested in attending, please click on the registration button below!
Unanet HQ
22970 Indian Creek Drive, Suite 200
Dulles, VA 20166
June Fun Fact: 1998 - Microsoft released Windows 98 operating system to the world. Windows 98 was the second major operating system release after Windows 95.
---
Calling All Inventory Management, Materials Management (MRP),
or Consulting Engineering Software Users
For those of you who utilize any Inventory Management, Materials Management (MRP), or Consulting Engineering Software, Unanet would love to understand what your experience has been! We are looking at various applications to integrate with the Unanet product and would like to know more about what our current users are working with. Please reach out to jim.moghadam@unanet.com, Jim Moghadam, a Unanet Product Manager, to provide him with details on your experience!
---

Unanet is Sponsoring the Tech Connection Summer Social
July 11, 2019 | 5 - 8 PM EDT
Unanet is sponsoring the Tech Connection Summer Social and would love to see you all there! This exclusive networking event will offer breathtaking views of downtown Washington, D.C., with the opportunity to share valuable insights and deepen relationships with fellow industry professionals and former Tech Connection speakers. Enjoy refreshing cocktails and hors d'oeuvres and join in the conversation about today's dynamic technology landscape.
Date
Thursday, July 11, 2019
5–8 p.m. EDT

Location
Convene
1201 Wilson Blvd.
The Gallery East, 29th Floor
Rosslyn, VA 22209
---

Broaden Your Use of Unanet:
Attend an Upcoming Unanet University Class!
To quickly and economically gain expertise in the Unanet software, Unanet University offers hands-on instructional learning during all-day courses in our Dulles, VA training facility, as well as virtual course offerings. We would love to have you join us at one of our upcoming Unanet University classes!
---
Join over 2,000 of Your Fellow Unanet Customers
in the LinkedIn Unanet Users Group!
Join your fellow customers in the LinkedIn Unanet Users Group where you can share best practices, ask questions, and receive innovative solutions. Additionally, Unanet employees share upcoming events, webinars, and fun facts!
---
Learn more about Unanet Financials,
Budgeting & Planning, and Project Analytics
Unanet is traveling around the country, spreading the word about Unanet Financials and additional Unanet capabilities! Register below, and feel free to invite colleagues from your company or other companies that will be interested in learning about Unanet!
| | | | | |
| --- | --- | --- | --- | --- |
| | Location | Venue | Date | Time |
| Register Now! | Huntsville, AL | Grille 29 | Wednesday, September 18 | 11AM - 1:30PM |
If you are interested in learning more about Unanet Financials, and are already committed on these dates, the Customer Solutions team would be happy to schedule a personalized demonstration with you!
Contact CustomerSolutions@Unanet.com to schedule one now!
---
Knowledge Center Highlights
Some Knowledge Center entries that we thought might interest you!
If you would like to learn more about how to navigate the Knowledge Center, please view this entry!

Ask Support
Question: Is it possible to hide the 'expense request' feature from our Unanet site?
Answer: Yes, go to Admin > Properties > Expense > General and uncheck the box for "Enable Expense Request Functionality". Save the change. This should hide the Expense Request information from your Unanet site.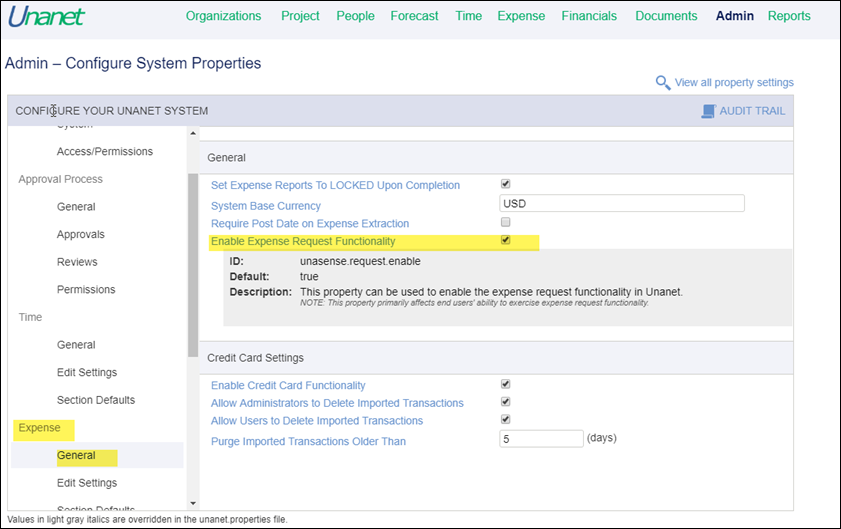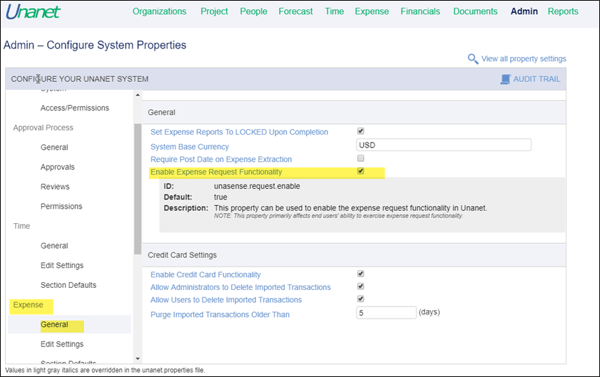 Each month we will include a common or recent question asked of our Support Team and share the response with you! Please continue to reach out to our Support Team at 703-689-9709 or email support@unanet.com.
Upcoming Webinar:
Unanet's New Features!
This webinar will explore tiny bubbles (smaller product updates) and great larger features, available now! Discover how Unanet is evolving with new product functionality.
After registering, you will receive a confirmation email containing information about joining the webinar.
Please follow this link to view all upcoming webinars. If you have some fantastic ideas for upcoming Customer Webinars, please submit them to csm@unanet.com. We are always looking for value-added topics to drive our customers' successes.
Please view previous webinars in the Knowledge Center under Unanet functional areas: Knowledge Center.