The Subcontractor Tracking Conundrum
Fewer headaches, faster cash flow: How to overcome subcontractor time tracking pains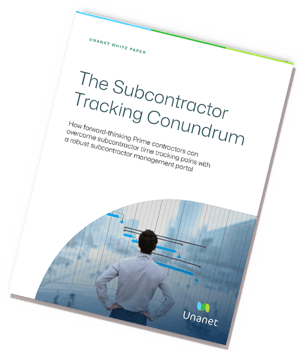 Bringing in subcontractors allows Primes to better fulfill project requirements without the cost of traditional employees, but also introduces a slew of new challenges for managing and invoicing projects. Forward-thinking contractors are turning to a better way to improve subcontractor management and collect revenue faster without any of the hassle of manual data entry, reconciliations, or having to email invoices: project-based ERP.
Understand common subcontractor time management challenges and how to overcome them.

Utilize 6 steps to onboarding a new subcontractor management tool.

Learn how your organization can achieve a 1-2 week subcontractor accounting process.

Understand how project-centered ERP is better for both Primes and subcontractors.
Complete the form to access your free white paper now.